Pleasure Rides on the Royal Routes
For the amusement of the curious tourist, Rajasthan Routes Trails organises some very entertaining pleasure rides. These are listed below :
Tuktuk / auto rickshaw or Disco Rickshaw ride : We take you snaking through the narrow lanes of the old cities' market places. Stop over for a bit of shopping or temple visits or maybe a quick snack and back to your starting point.
Royal Baggi ride : In olden times the Royals used to travel by horse driven carriages or baggis. We continue the tradition to this day with beautifully decorated baggis driven by four white horses. This ride will take you around the beautiful main city roads. A ride that enchants children and elders alike.
Tonga rides : In some parts of the country tongas are still popular as a means of transport. We take you on such a ride in the beautiful city of Bikaner.
Tonga ride at Albert Hall : The lush green Ram Niwas garden and the broad roads that line the borders of Albert Hall are bustling with life. Enjoy a half-hour tonga ride here.
Camel Cart : Originally it was a normal means of transport for the people of Rajasthan but farmers still use it till date. We take you on a camel cart ride to explore the Rajasthani countryside.
Camel Rides : We arrange camel safaris and camel rides in all the major destinations in rajsthan such as Jaisalmer, Amer, Bikaner, Jaipur.Camel Ride at Sam / Khuri Sand dunes will give you a magnificent lifetime cherishing experience. After having lunch at Bikaner , drive to Raisar village (18 kms). Start Half day Camel Safari also visit Raisar Village lasting from 1 to 2 hours. Later proceed to the camp point. After sunset in the dunes, accompanied by folk musicians, cocktails and lavish buffet dinner. Camel Ride at Jaipur near Jalmahal and Samode is extremely joyous.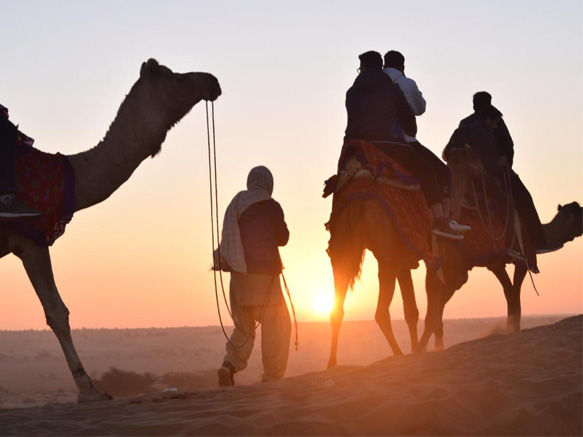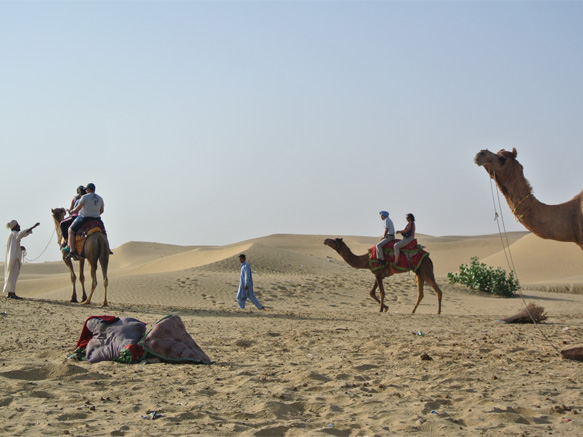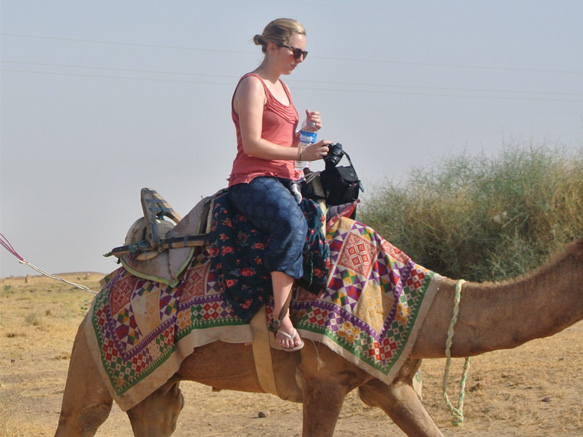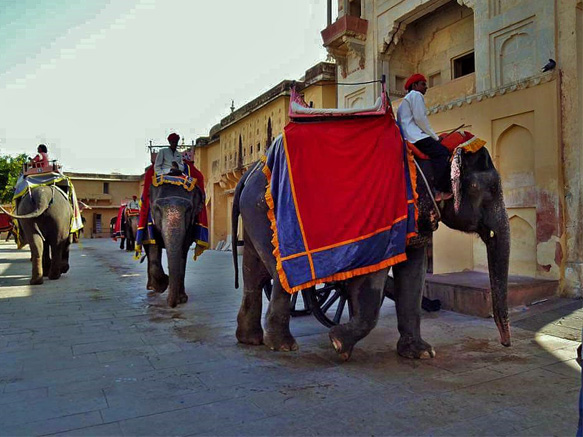 Jeep Ride (village Safari ) at Amer Fort to Samode Village :A guided walking tour of the kalakho village or on camel carts taking in the vast grazing . Pastures and fields of wheat, mustard, coriander and chillies. You'll get chance to meet the traditionally dressed residents, visit their homes and watch farmers, herders and silversmiths plying their trade, perfect to capture on your camera lense. Enroute visit a local school or panchayat, guests can also volunteer to listen to children read at the local school or teach English to the students.
Jeep safari to Bhangarh : with packed lunch (110 km)At the edge of the Sariska forests is the ghost city of Bhangarh, with its ruins of temples and havelis, homes and markets, believed to have been cursed by a tantric sage who lost favour with Rani Roopmati, who ruled Bhangarh. The entire city is said to have been destroyed overnight because of the curse. In its time, Bhangarh must have been a beautiful capital, for the Old City of Jaipur is said to have been designed along the same lines. It is said to be one of the most haunted places in Asia. (Source: Discovery Channel).
Juggad Ride at Khalakhoh : Enjoy ample leg space as you sit, stretch, stand or even lie down in the back ofa Jugaad – the Indian Mercedes! Experience the joy of being driven around in the most popular means of mass transport of the locals – the open truck!
In India, it is said that anything is possible. And, if not then there is Jugaad– a casual .solution to a serious problem. The villagers in the state of Rajasthan did the same to overcome their routine transport problem. They designed their own vehicle by mounting the diesel irrigation pump on a steel frame with wheels. Crazy isn't it? But they are plenty in number and are quite safe and economical. Hitch a ride to know more. Indians always have a quick fix for almost everything!
Hot Ballooning : Pick-up 45 minutes before sunrise or 3 hours before sunset minutes with tea/coffee and cookies. Passengers are free to take pictures however need to adhere to safety norms a instructed. No smoking or use of mobile phones is permitted on site and during the flight due to safety reasons. Flight 60 minutes) (+/- 10 minutes) Mineral water is available on the flight.Post flight Activities 15 to 20 minutes, including awarding of the Flight Certificate by the Pilot. Drive to the hotel 45 minutes .
Total experience 03 to 3 ½ hours Sky Waltz Hot-air Ballooning constitutes experienced technical crew, commercial pilots and experts around the globe. We implicitly follow all international security and maintenance norms and our men, passengers and equipment are comprehensively insured by Allianz as per global aviation norms. We offer a full-refund (or an option to fly on the next available flight) should the flight be cancelled due to weather, something not available with many ballooning companies world-wide.
There will be two balloons with a total seating capacity of 11 passengers & operate 06 days a week two flight one each in the Morning & Evening would be conducted. Timing Morning 0630 to 0930 hours & Evening 1600 hours to 1800 hours
Durations – 01 OCT to 31 March
Elephant Safari : is conducted in the natural and serene area surrounding the camp of Dera Amer-after a welcome drink and feeding the elephants the guests are seated max 2 on each elephant and sent on a picturesque track following a local tribal guide passing by village hutments, fields, medival fortress (let up with mashals at night) and monument finally arriving at the camp situated in the middle of the forest to a grand welcome. Cocktail / Champagne on elephant back.
Jungle Dinner :The elephant ride culminates at the camp or the exclusive jungle spots. The guests arrive at these surprise locations lit by Mashals and Diyas, local traditional instrument playing from the distance, exclusive seating and dining with a luxurious candle lit layout and live barbecue. Similarly we have a dining location for the day in the forest where the guests are treated to a sumptuous lunch in privacy and exclusivity while witnessing and partaking in the elephant bath in the pond situated near the dining area. An unforgetful experience in the middle of the jungle.
Vintage Car Ride : Arrival Transfer in Vintage Car. Kindly note that The Vintage and classic cars from a different age are now back on the streets of the Jaipur / Jodhpur / Udaipur to let the Guests enjoy the magic and charm of the state bygone royal era. Propelled by passion and the rising requirements of tourist, most cars lovers are who have large car collections have either started renting them out. The regal and reminiscent of the lifestyle of the kings and royalty, like all aristocrats they indulged in collecting priceless objects d'art. Placed high in the collection were cars. Some of the earliest cars were custom made to suit their elegant if sometimes extravagant taste. A vintage car is a Car built before1940 known as the 'Vintage era'. Owing to their delicate engines and extremely low average speed of about 5-7 km an hour and such cars only within city limits and owning and maintain a vintage car today is very costly and besides some important parts are very costly. The Restoration of vintage and classical beauties are started the hobbies to preserve the old, whom slowly changed into and now guests can use them as city tour.
Dodge, Mercedes, Chevrolet, Pakard, Jeep, Austin, Cadillac, Mercedes cars in Jaipur for Tourist. The chauffeur who is usually dressed in a white sherawani and colored turbans. We can arrange 18-20 cars at time in Jaipur. In Jodhpur we can arrange the 10 cars and in Udaipur 2-3 cars can be arranged.
Horseback Riding Experience in the countryside of Jaipur : An opportunity to ride on Marwari horse's in this unique Aravalli trails which are some of the ancient routes that behold stories from the bygone era of kings. This is a 1 hour horse ride at Mundka Farm House.